Paramount Canada's Wonderland
Paramount Canada's Wonderland is Canada's premier theme park, featuring nine themed areas and more than 200 attractions including over 65 rides. The park hosts more than 3 million guests annually and employs over 4,000 seasonal employees and 160 year-round employees
Paramount Canada's Wonderland Facts
Construction began in June 1979 when William Davis, then Premier of Ontario, pushed a plunger in downtown Toronto touching off the first blast at Paramount Canada's Wonderland in Vaughan. The peak construction period occurred in 1980 with 700 tradespeople, 12 architectural and engineering firms and 40 inspectors working on the enterprise.
Opening Day - May 23, 1981, William Davis and Dudely Taft, President of Taft Broadcasting Co., were among the notables attending an elaborate opening ceremony for Canada's first national theme park. The ceremony included 10,000 helium balloons, 13 parachutists, 350 white doves, a pipe band and 4 children representing the Arctic, Pacific, Atlantic, and Great Lakes regions of Canada.
The 300 plus acre site in Vaughan, Ontario was selected for its proximity to Toronto. The area's large population base and easy accessibility, particularly via Highways 401 and 400, were two other factors determining the location.
Landscaping facts;

*Trees - 3,700 100-300mm diameter maple, ash, spruce, pine oak, hemlock 2,000 30-100mm diameter crab-apple, evergreen, Norway maple
*Shrubs - 75,000 cononeaster, honey-suckle, dogwood, privet, juniper and yew.
*Turf - 198 acres (80 hectares) with 169 acres (68 hectares) under intensive maintenance.
*Annuals - 30,000 per season.
*Bulbs - 10,000 per season.
*Seat Walls - More than 2 kilometers.
*Berming - More than 3 kilometers.
*Unit Paving Stones - 17 acres, or 3.3 million individual pavers.
*Rock Landscaping - Approx. 10,000 metric tonnes of limestone from Wiarton and Rama Townships of Ontario.
*Grading and Contouring - More than 550,000 cubic metres.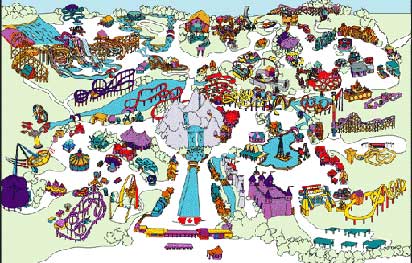 Click HERE to download a PDF map of Paramount Canada's Wonderland
Admission & Parking
Ticket Type

Price

Adult Pay-One-Price
Ages 7-59. Valid any one operating day.


Child/Senior Pay-One-Price
Ages 3-6 & 60+. Valid any one operating day.

Parking
Paramount Canada's Wonderland offers ample parking. Parking is $ 7.50 per day, per vehicle, for cars and vans. Disability parking is also available. School and Tour Buses are free.

If you just want to drop off someone for the day, simply bring them to our Passenger Drop Off easily located off of Jane St.
Season Pass Prices (taxes not included)

FAMILY OF FOUR
FAMILY OF FOUR WITH PARKING

$ 287.30

ADDITIONAL FAMILY
(with either Family Pass)

$ 64.95 (each)

INDIVIDUAL
INDIVIDUAL WITH PARKING
Directions
Driving Directions
Paramount Canada's Wonderland is located just minutes north of Toronto off Highway 400, just 10 minutes north of Highway 401. Exit Rutherford Rd. if heading north or south on Highway 400.

Public Transit
By Public Transit the Wonderland Express "GO" Buses run regularly from Yorkdale and York Mills subway stations. Schedule operates throughout the day and evening through closing.

York Region Transit
York Region Transit routes that travel to Paramount Canada's Wonderland are 165D, 4 and the Wonderbus (express route, operating weekends and holidays throughout the summer months). For more information on the Wonderbus click here.