FUNERAL FLOWERS TORONTO
At a time of loss, funeral flowers in Toronto are often the most powerful way that you can express your emotions. In these difficult & trying times, you will be able to choose an appropriate funeral flowers Toronto tribute to say your good-byes tastefully & elegantly to the dearly departed. Sending funeral flowers in Metro Toronto can help to bring comfort to those who have lost a loved one. Toronto funeral flowers are available in a large selection of tasteful, dignified, & elegant products for your consideration. Send funeral flowers to Metro Toronto after the passing of immediate family, relatives, friends, business associates, & colleagues. The array of funeral flowers in Toronto Ontario includes a range of floral tributes appropriate for family, friends, & associates to send. When you choose the option of personalizing your funeral flowers in Toronto Canada, your remembrance will have special significance.
To view our selection of Funeral Flowers, please click on photo: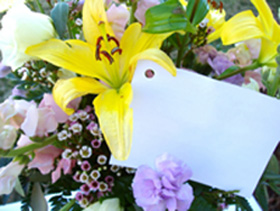 Your floral tribute can be delivered directly to any of the funeral homes in Toronto or to the church. When sending your funeral flowers in Toronto to the Toronto funeral home or church, please make sure to include the name of the deceased & the name of the funeral home or church. Please advise if you know the service or viewing times. The funeral homes in Toronto or churches will always be contacted in advance in order to verify with them exactly when & where to deliver the flowers.
Funeral flowers in Toronto are always created with the freshest, premium top quality blooms. Funeral flowers in Metro Toronto are available in a wide variety of floral choices which may include roses, carnations, lilies, gladiolas, daisies, irises, mums, tulips, tropical flowers, & more. You may choose to express your sympathy with funeral flowers in Toronto quarter, half & full casket sprays, floral arrangements, wreathes, special floral tributes, nosegays, side table arrangements, standing sprays, or mixed planters. What ever you select, your funeral flowers in Toronto will help you to say farewell with grace & elegance.
Funeral flowers Toronto caskets sprays are traditionally sent by next of kin & delivered directly to the funeral home. Full casket sprays cover the length of an open or closed casket. Choose funeral flowers Toronto casket sprays in traditional all white cover with gladiolas, white lilies, white carnations, white mums, & white daisies. If the dearly departed loved vibrant flowers, honour his/her memory with funeral flowers casket sprays of red roses, red carnations, & blue irises. Funeral flowers Toronto quarter & half casket sprays are placed on the lowered lid of an open casket. Place a funeral flowers Toronto pillow covered with fresh flowers inside the casket. Funeral flowers Toronto basket arrangements are very popular for the funeral home. The funeral flowers Toronto nosegay, traditionally fashioned from roses is normally given by small children & young relations of the deceased. Your funeral flowers Toronto nosegay is typically set inside the coffin & is designed to match the casket spray. A funeral flowers Toronto standing spray enhances the environment inside the funeral home & usually coordinates with the casket sprays. A funeral flowers side table arrangement may be sent to the funeral home or the family of the deceased after the ceremony. This style of funeral flowers Toronto expression of sympathy is usually made by friends & personal or business acquaintances.
Your gift of funeral flowers in Toronto may be in the form of a personalized floral tribute. These may be totally individualized representing a favorite activity or alma mater. A traditional funeral flowers Toronto floral tribute is a cross on an easel, symbolic of the Christian faith. These funeral flowers in Toronto are available with white mums & red roses or in pink roses, yellow roses, white roses, orange roses, or lavender roses. A heart on an easel is another very popular funeral flowers Toronto arrangement expressing eternal love & remembrance. These beautiful funeral flowers tributes can be fashioned in any colour combinations, traditionally with roses & carnations. Funeral flowers Toronto wreathes are available in all sizes & price ranges. Traditionally these funeral flowers in Toronto will be created in shades of white, red & pink using a variety of flowers depending on personal preference.
During this very difficult period you may prefer to remain quietly at home & shop online for your funeral flowers in Toronto. You will receive the same level of consideration, assistance, & superb service when shopping for funeral flowers in Toronto online as if you were at a physical location. There is a very extensive catalogue of funeral flowers in Toronto to choose from. Browse the selection of funeral flowers in Toronto on the website at your leisure until you find exactly what you want. Then follow the simple ordering & payment instructions. You may use all major credit cards when purchasing funeral flowers in Toronto. Your funeral flowers Toronto purchases will be made on a secure server to insure that your credit information remains safe. All of the data is encrypted in software using 128 bit encryption. Your privacy will be protecting when you purchase funeral flowers in Toronto online. Every measure to safeguard your personal information will be taken. In addition, your personal information will never be disclosed to outside sources when your buy funeral flowers in Toronto.
Show a most caring & sympathetic gesture with funeral flowers in Toronto.
During a time of bereavement, funeral flowers in Toronto show compassion & sensitivity.