University of Toronto
University of Toronto
Toronto ON
M5S 1A1

Tel: 416 978-2011



Founded in 1827, the University of Toronto is Canada's largest and most distinguished university. Consistently ranked Canada's top research-intensive university by Maclean's magazine, U of T offers teaching programs in 17 academic divisions.
The U of T is the largest post-secondary institution in Canada. Among many others, faculties include forestry, dentistry, arts & science, music, pharmacy and nursing.
The downtown campus of U of T, the St. George campus is the historical centrepiece of Canada's leading research university. Its rich architectural heritage is a magnet for visitors to Toronto and serves as the backdrop for a internationally recognized academic community of some 8,000 faculty and staff. In the heart of Toronto, this historic 65-hectare (160-acre) campus is also home to more than 43,000 full and part-time students.
Click here for more interesting U of T Facts.
| | |
| --- | --- |
| | |
University of Toronto - St. George Campus Map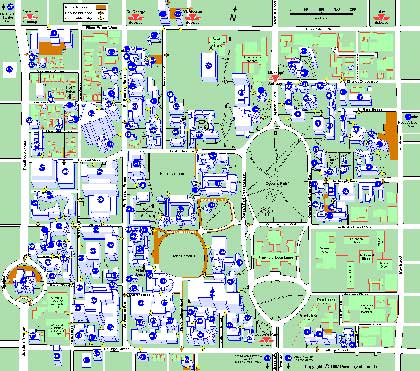 Click links to download a PDF campus map of U of T
Part1 Part2

Directions
By Public Transportation

The U of T campus is very large and can be accessed for many streets and subway stops;

St. George Subway Station: walk south on St. George St.

Queen's Park Station: walk west on College Street

Museum subway station: walk south on Queen's Park Crescent


By Car

Driving from the East (Montreal, Kingston, Oshawa)
Take Highway 401 into Toronto, and then exit onto the Don Valley Parkway. Drive South for about 10 km and exit at Bloor St. Turn right onto Bloor, and continue west. After about 3 km (you will pass major intersections at Yonge St., Bay St., and Avenue Road) you will reach St. George.

Driving from the West (Sarnia, London, Guelph)
Take Highway 401 into Toronto and then exit onto the W. R. Allen Expressway, South. After about 4 km, the expressway ends at Eglinton Avenue. Stay in the left lanes and turn left on Eglinton. Follow Eglinton to Bathurst (about 2 km.) and turn right on Bathurst. Follow Bathurst south for about 4 km., past St. Clair and Bloor, to Harbord (the second light south of Bloor). Turn left on Harbord and continue east across several city streets to Spadina and then St. George.

Take the QEW (Queen Elizabeth Way)
which becomes the Gardiner Expressway in Toronto. About 15km. past Highway 427, exit north on Spadina. Continue north on Spadina for about 3km. to Bloor Street, passing Queen, Dundas, College, and Harbord. Turn right on Bloor, then right on St. George